Andrew Hall, who has organized a trail run each Sunday for a few weeks, had another this past weekend at Clear Creek Metro Park. Clear Creek probably has the toughest routes with some serious climbing and so this likely discourages some people from coming out. However, there were 6 of us at the start, Andrew, his buddy Sam, Recumbent Dude (Nathan), Dean, Mitch O and me. We headed immediately to the ridge via the Fern Trail, topping out at .9 miles and we were huffing and puffing and regrouping. After 7 miles and 1200' of climbing, I had enough and bugged out with Mitch and Sam departing a little sooner. Andrew, Nathan and Dean headed out via the road to get in a few flat miles and likely ended with around 11 miles. This Sunday, Andrew is headed to Slate Run, which is quite a bit flatter for a 2:00pm start. Not sure which parking lot is designated as the meeting lot but someone will probably post in the comments section.
Got out for some hill repeats today and briefly rode with Rob Rhodes, who had just split off from Billy C and who had run into Marty S in Utica. I had only 15 miles but over 2000' of climbing so that was ok. Hope we can ride this weekend.

Powered by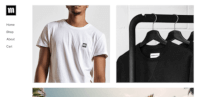 Create your own unique website with customizable templates.